Hello WBC Party Friends !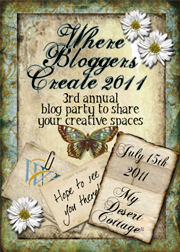 My Desert Cottage
Thank you Karen for coordinating this great event!
Thank you for coming by or coming back and visiting. I am always happy to entertain blogalistas - is that a word - I'm using it anyway.
Here are a few pictures of my work area. I cleaned up for you just a bit cause it's usually not this clean, I must confess. Hope you enjoy.
This is what you see as you enter.
My Blogging station
A closer look. That thing with the black screen is going away soon. It has been misbehaving and has been giving me fits so I have upgraded to an iMAC...YAY!
This is my view at my work table.
This is what I see from my work table if i look up. I use the white boxes to store supplies I really don't use often.
And this is directly in front of me -looking up. More storage and beads and baubles in jars I have repurposed from mainly Yankee Candles. They are just big enough to hold quite a few strands of beads.
Paz & Amor are still hanging around in their love nest...they hang from the ceiling.
My sign - sorry for the bad picture. I made it out of an old frame and covered cork board in fabric and finished it off with off white flowers.
This is my view out into the foyer and living room as I sit at my work table.
These are a few pictures of different areas.
See all the jars?
Final pictures and vignettes
These beauties are getting ready for the "Mes Bijoux Vintages" store on Etsy very soon.
My filing station - my moms sewing box with folders...lol!
My mom and dad
Inspirational board
.
I hope you have enjoyed your visit. Please keep the door open for me - I will be by to visit with you soon

.
Karen thank you for all the hard work you put into this event. God's Blessings to you and to everyone visiting.
JennyKaren Valentine from My Dessert Cottage